PSIsafe version 12.1.2.1008+

PSIsafe Share version 2.0+

Download Pending
Note
This article is intended for On-Premises & Cloud customers.
Audience
This article is intended for general use.
Overview
The PSIsafe Share Portal is a web-based service that allows you to receive and share documents with specific users set in your Share Address Book. This guide explains how to activate your account and start using PSIsafe Share outside of PSIsafe. The following is a screenshot of what a user would see when first logging into the PSIsafe Share portal: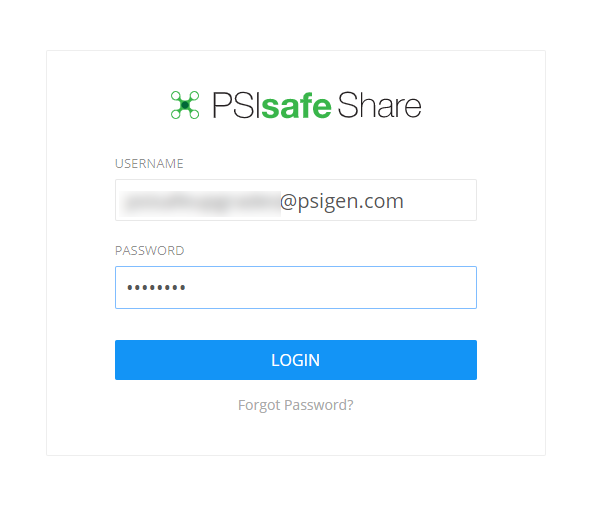 Requirements to access the PSIsafe Share Online Portal:
Accessing the Share Portal
External resources can access the PSIsafe Share portal by using a standard browser (recommended browsers are listed in the requirements above). When a document(s) is first shared, an email is sent to the end user. This email will contain the username and password with a link to the portal, as shown below: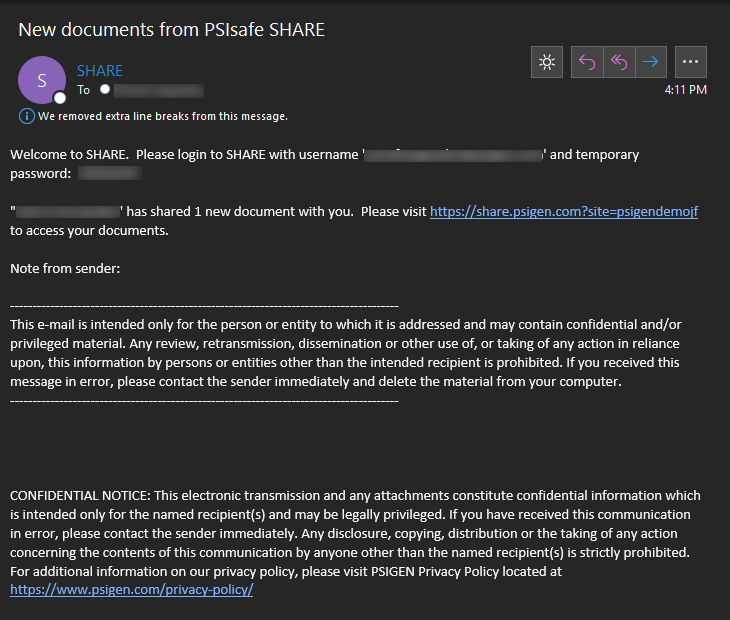 Clicking the link will take the end user to the login page for the Share portal. Once on the login page enter the username and temporary password that was given in the email and click Login. The user will then be prompted to enter in a new password, as shown below: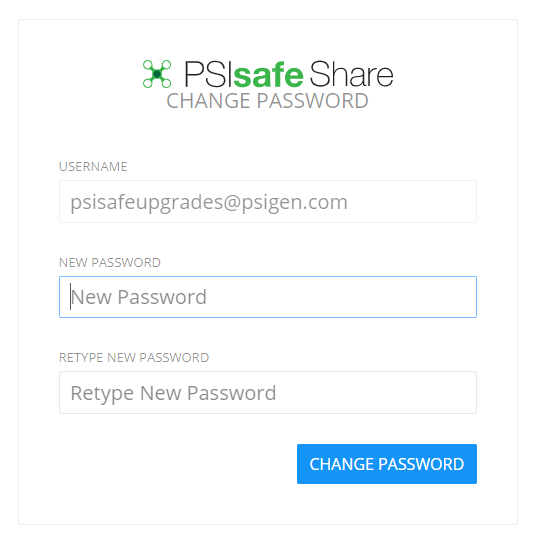 Folders and Documents
Shared documents are sent to the "SHARES" folder and listed for easy access. To view a document, the user can double click the document or select document and click download.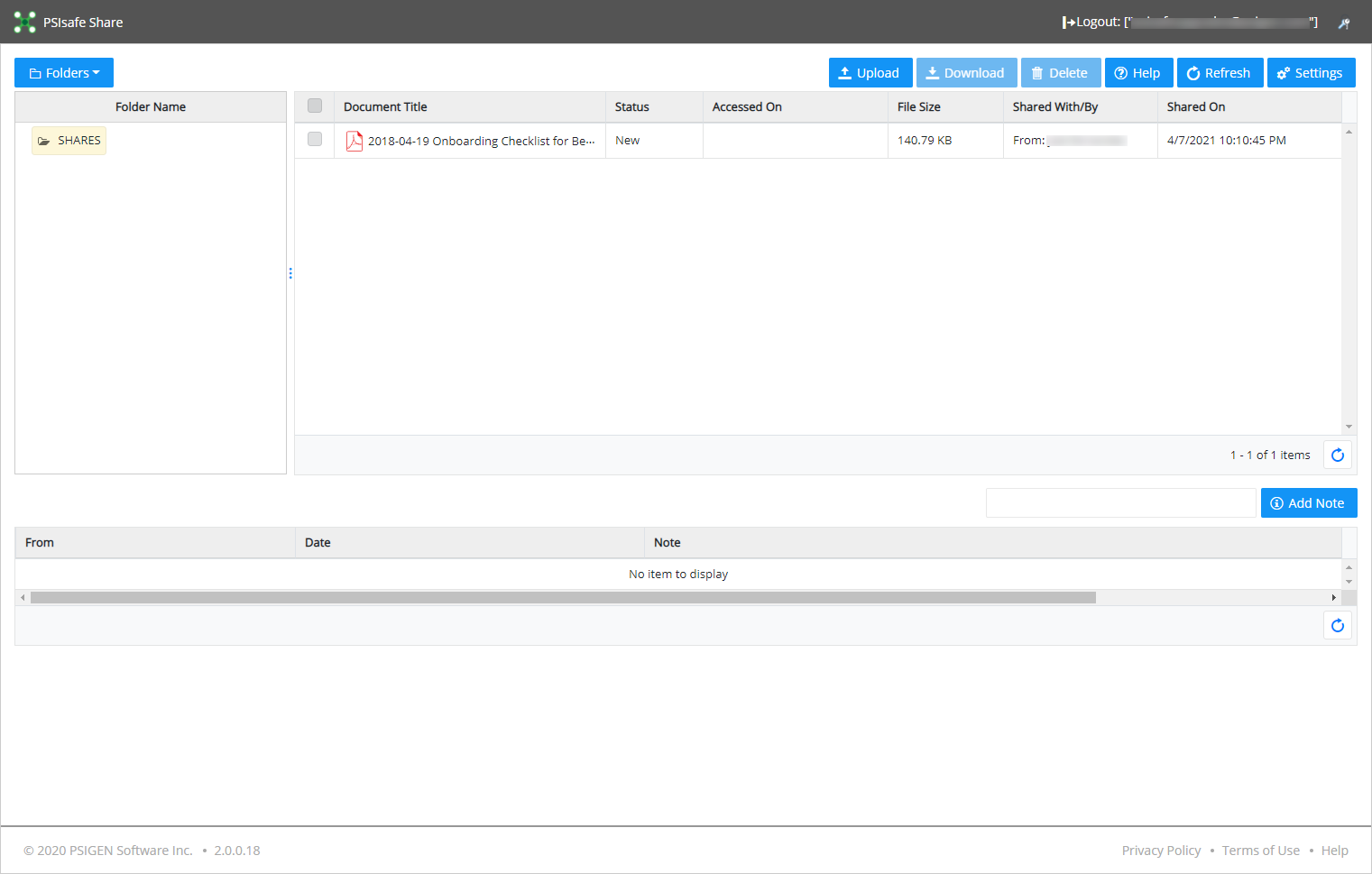 Depending on how their browser is configured, the document will be opened in a browser or saved to the PC/device and opened with the default program for that document file type.
Users have the follow options (buttons) for editing or sharing documents and folders from Share:
Folders - Located in the upper left corner of the screen this button allows users to add or delete folders.
NOTE: By default the "SHARES" folder cannot be deleted.
Upload - Allows users to upload a new file(s) in order to share them with another user.
Download - Allows users to download any document in their list to the local machine.
Delete - Allows users to delete selected document(s).
Help - Sends users to the PSIsafe Share wiki.
Refresh - Allows the user to refresh the list to show any new documents shared since login.

Settings - Allows the user to change the date format displayed at the bottom of the screen. The section at the bottom of the screen tells users who shared the document, when they shared it, and any notes they added about the document.



Acceptable date formats include:



| Date Format | Display Example |
| --- | --- |
| M/d/yyyy h:mm:ss tt | 9/27/2017 10:35:31 PM |
| d | 9/27/2017 |
| g | 9/27/2017 10:35 PM |
| MMMM dd, yyyy h:mm tt | September 27, 2017 10:35 PM |
| yyyy-MM-dd | 2017-09-27 |
| yyyy-MM-dd | 2017-09-27 |
| MM-dd-yy | 09-27-17 |
| MM-dd-yyyy | 09-27-2017 |
| MMM dd, yyyy | Sep 27, 2017 |
| MMMMMMMMM dd, yyyy | September 27, 2017 |
| dd MMM yy | 27 Sep 17 |
| dd MMM yyyy | 27 Sep 2017 |
| yyyy-MM | 2017-09 |
| MM-dd-yy | 09-27-17 |
| yyyy-MM-dd hh:MM | 2017-09-27 10:09 |
| MMM dd, yyyy hh:mm:ss | Sep 27, 2017 10:35:31 |
| MMMMMMMMM dd, yyyy | September 27, 2017 |
| yyy-MMM-dd hh:MM:ss | 2017-Sep-27 10:09:31 |
Keywords: PSIsafe Share Guide, PSIsafe Share End User Guide, How to Use PSIsafe Share