Folders may be populated by clicking on New and manually entering the index information. Edit the folder by clicking on Edit (on the button bar or right click on the folder.) Populate folders by selecting Tools, on the button bar, and automatically populate the indexes by importing the information from a CSV spreadsheet.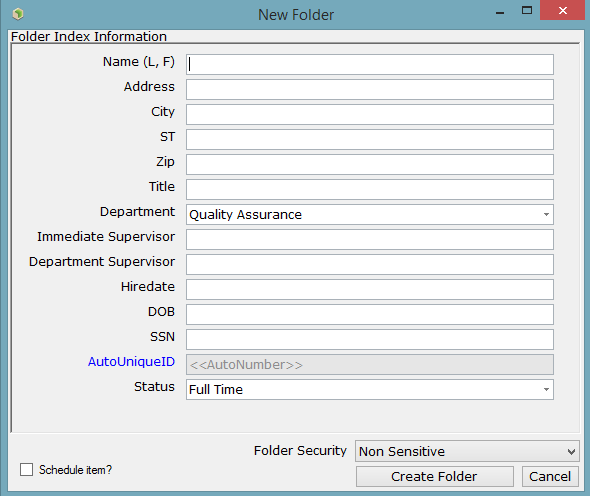 Populating Folder – Importing Indexes using a CSV Spreadsheet
Create cabinet in Management – a CSV spreadsheet has been created and based on the indexes built in the cabinet will populate the folders.
Select Tools>Folder Action> Indexes> Import Folder Indexes.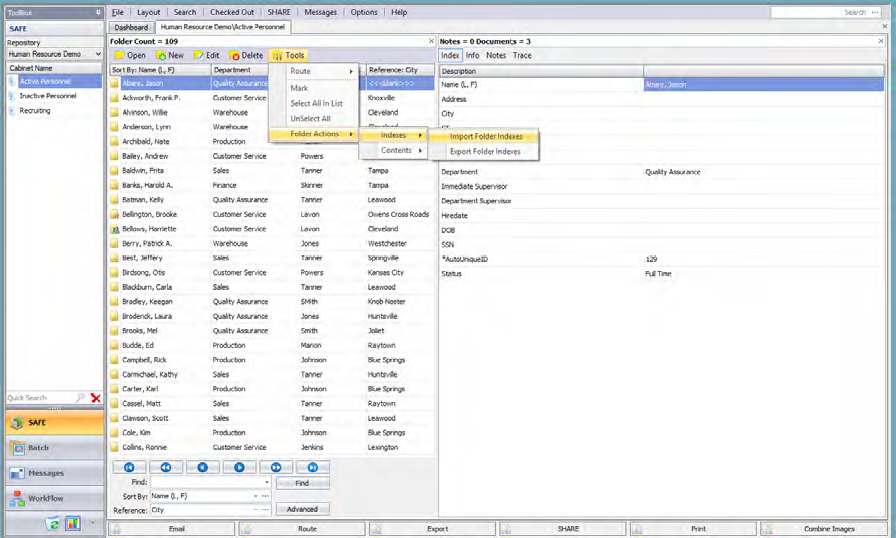 Step 1: Select location of excel spreadsheet-check headers if appropriate.
Step 2: Select Repository, Cabinet, and Folder Sensitivity.
Step 3: Map PSIsafe indices to the source data fields.
Step 4: update existing folder matches.
Step 5: Start Import.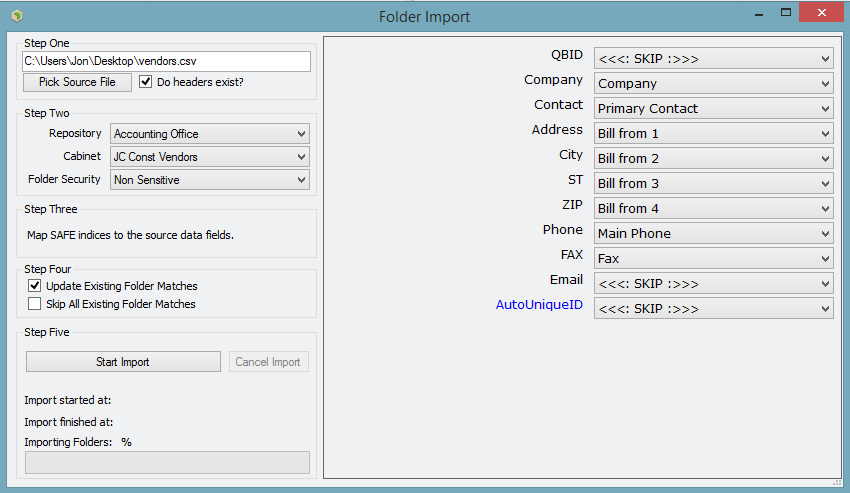 After import is complete, close out the Folder Import screen, click on the find button in the search folder area to bring in folders.
Folders Populated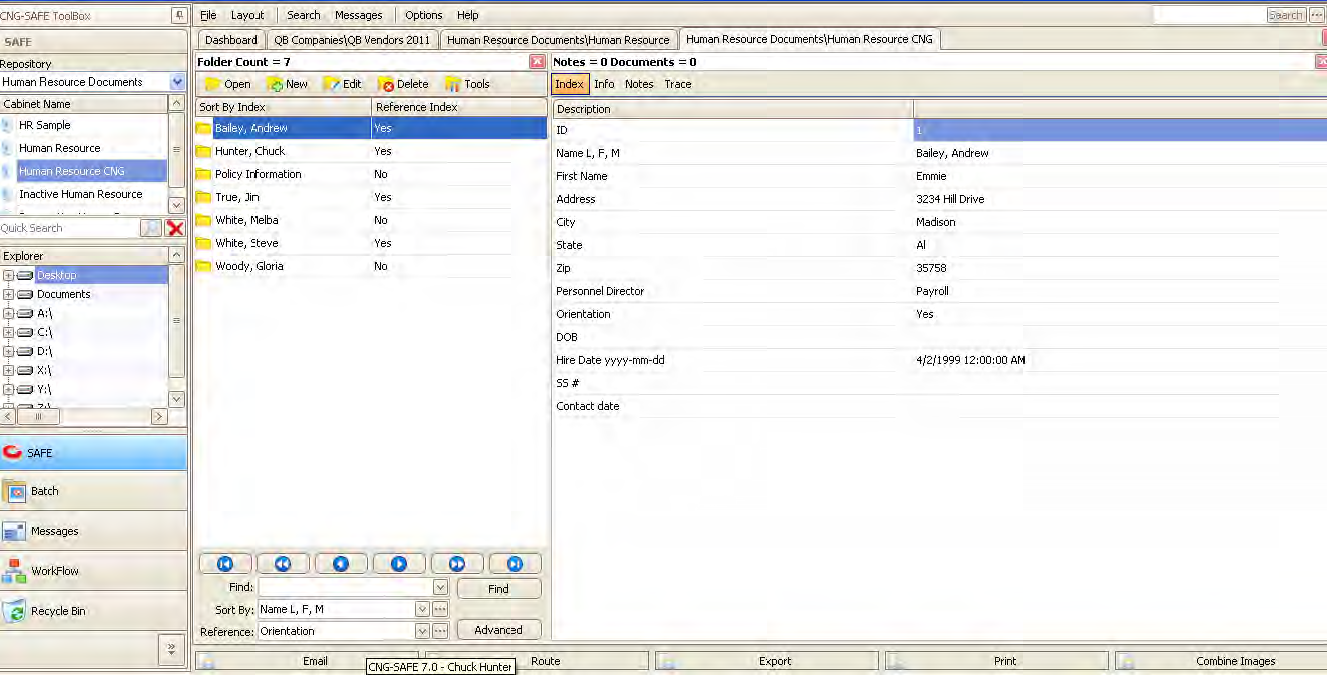 Folder may also be populated using Synchronizer and Books to populate vendors and customers from Quickbooks using the sync program.

Setting Folder Security with Synchronizer
Synchronizer supports automatically setting Folder Security. Both new and existing folders will be updated when Synchronizer runs.
Requirements: The database must contain a field that can be used for Folder Security. Database contents must match the text contained in the Folder Classes defined in Management. If no match is found, the folder will be assigned a default security of non-sensitive.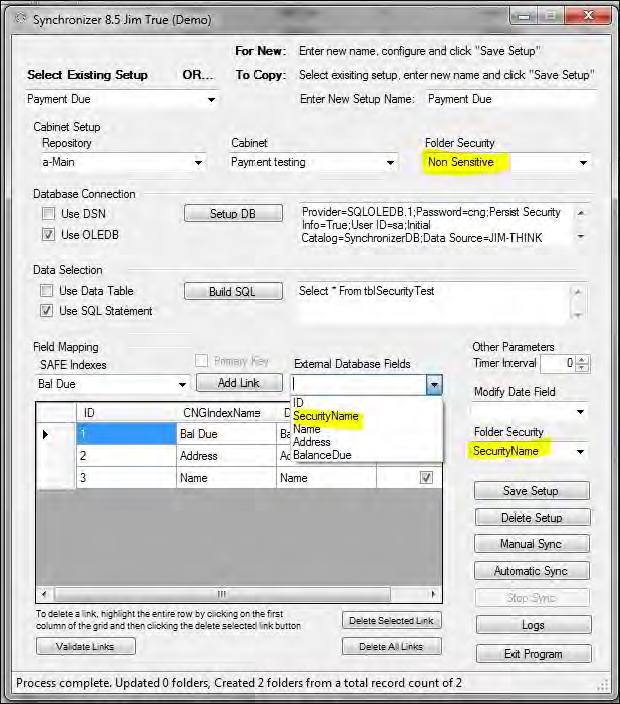 Toolbar and Button Bar on the Folder Screen

File – Change User, Management or Exit.
Layout – Each user has options of setting up visual.
Search – Allows search over all repositories and cabinets.
Options – Export Images, Notification of Workflow, Document Settings.
Help-Client and Server versions – should be the same.
Error Messages are available.
Open – click on open to go to the document screen.
New – create a new folder – (rights driven).
Edit – edit current folder – (rights driven).
Delete – delete folder – (rights driven).
Tools – route folder, mark folder to move with documents to a compatible cabinet, select all in list, unselect all, and using the folder actions, populate folders from excel spreadsheet, import or export indices.
Index – defines the index in a folder.
Info – information relating to the folder, create date, sensitivity, etc.
Notes – folder note.
Trace – Route and traces the location of a folder.
Keywords: PSIsafe New Folders, New Folder