| | | |
| --- | --- | --- |
| version 7.7.x | | Download Pending |
Audience
This article is intended for PSIcapture Administrators.
Overview
Shared Counters have a variety of applications to customize and tune your PSIcapture workflows. Counters can be used in a variety of customization options, including Bates Stamping, Indexing, and more. Explore the article below to learn how to add and edit counters to suit your unique workflow needs.
Shared Counters
The user can define counters which are shared across stations for use in auto numbering fields in Index Data Fields, Bates Stamping or Imprinting.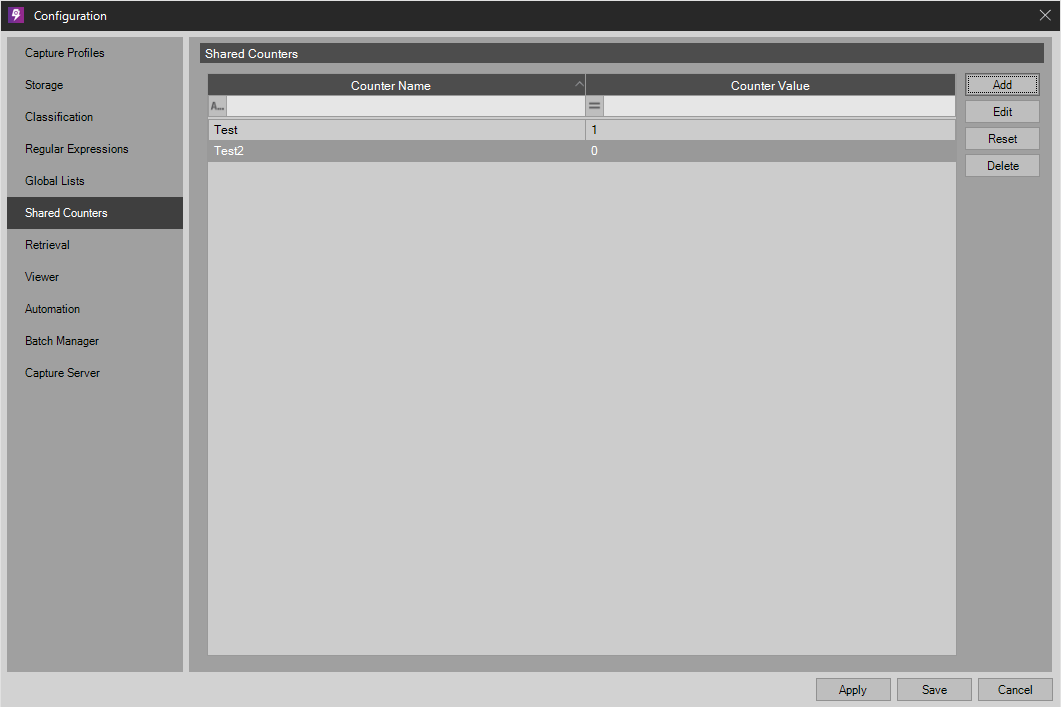 ---
Add Counter
Add a new counter by entering a Display Name and an Initial Value

Edit Counter
Edit the existing counter value (name cannot be changed on this screen).
Reload counter before incrementing
This feature allows the user to track changes to counters that are performed by externally. By selecting the checkbox, users can reload a shared counter value in instances where external processes are updating a counter's value. For example, if a user would like to employ a workflow which tracks sequential bates numbering across multiple batches, this feature allows the user to track real-time updates to the shared counters involved with each step of the workflow, then migrate those updates to the Batch Manager database.
Example workflow:
Create a shared counter with a starting value of 0.

Create a Capture Profile with fields for

Shared Counter name

New Counter Value

Current Counter Value

Capture documents to increment initial counter value.

Enter a new counter value into field "New Counter Value".

Perform a Database migration to the Batch Manager Database, which updates the Shared Counter value with the defined new counter value.

Capture additional documents, and observe that counter value continue to increment from the defined counter value in the previous step.
Delete Counter
Highlight the counter to be deleted and select delete.
Reset Counter
Highlight the counter to be reset and select reset. This will set the value to 0.