| | | |
| --- | --- | --- |
| version 7.7.x | | Download Pending |
Audience
This article is intended for PSIcapture Administrators.
Overview
The PSIcapture Auto Import: Monitored Locations product area controls the locations which the Auto Import Processor watches for files that meet your configuration criteria. When files are found, they are moved into the specified batch storage locations and queued up as a batch. If Workflow Auto Processing is enabled, the batch can also be automatically processed after being queued by the Auto Import Processor. Explore the article below to determine how best to configure a monitored location for your Auto Import Processor.
Add Monitored Location: Local or Network
Path
Users can add one or more directory paths or UNC paths to monitor for each Capture Profile.
NOTE: For multi-workstation configurations that employ network stations and monitor shared network locations, use a UNC path, i.e. \\PCname\Location as the Path.
Additionally, it is recommended that UNC paths be used where possible. If more than one station is in "Stand Alone" mode, or if two different Capture Servers attempt to monitor the same directory, only one (the first) will be able to monitor that directory.
Image Extensions
The filetypes to monitor can be specified.
The image extensions displayed are the defaults.
By clicking the "ellipse" button, users can add extensions not listed or remove extensions for unmonitored file types.
Authorization
Users can enter username and password credentials for folders that have limited access.
NOTE: Credentials used for network resources will override impersonation settings on the Auto Import Service.
Add Monitored Location: SharePoint (WebDAV)

Server/Path
Enter the Sever/Path to be monitored.
NOTE: Dragging files into a WebDAV folder will NOT make the files available to Auto Import. These files must be published.
Image Extensions
The image extensions displayed are the defaults.
By clicking the "ellipse" button, users can add extensions not listed or remove extensions for unmonitored file types.
Authorization
Users can then enter the valid credentials for logging in to SharePoint.
NOTE: If the user must have access to multiple locations, or permissions are restricted, you may need to set the user to a Site Collection Administrator.
Is SharePoint Online (Office 365) Site? - Check this box if using a SharePoint Online or Office 365 installation.
Add Monitored Location: RightFax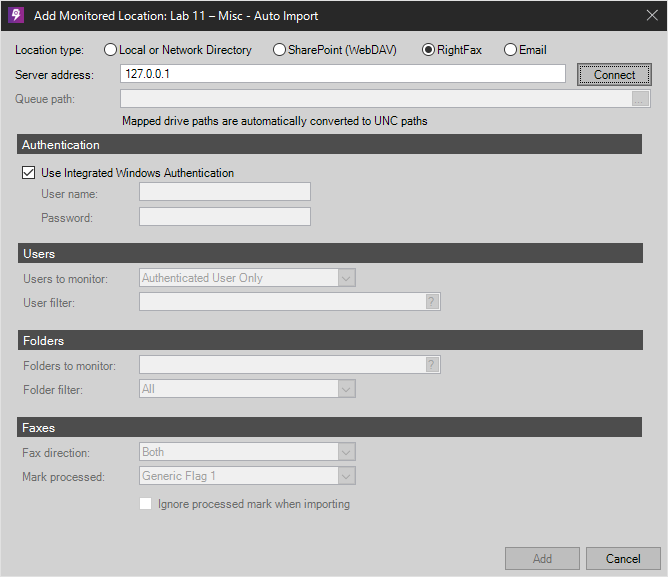 Server Address
Enter the address of the RightFax server and use the connect button test the connection.
Queue Path
The Queue Path is a storage location where images are moved out of RightFax before being processed by PSIcapture.
Authentication
Select between Windows Authentication or manual entry of a user name and password.
Users / Folders
Allows the user to select which RightFax users and folders to monitor for incoming faxes.
Faxes
Select between Incoming, Outgoing, or Both as well as which flag to set on processed files. Optionally, users can decide whether or not to ignore processed flags when importing.
Add Monitored Location: Email

Add a Monitored Email Inbox
IMAP URL
Under Connections Settings section, Fill in your email server's IMAP URL.
This is often mail.domain.com, e.g. mail.office365.com
If you do not have this information, please contact your IT administrator.
IMAP Port
Fill in your email server's IMAP port number.
For standard IMAP email, use port 143.
For secure IMAP email, use port 993 and select the check box labeled "This server requires SSL"
If your email server uses a custom port, please enter this value instead.
Authorization
Enter the credentials (username and password) of the email mailbox to be monitored.
Alternately, if you would like to use the Windows credentials of your workstation to authenticate with, select the checkbox labeled "Use Integrated Windows Authentication".
Click the Connect button. If successful, you will receive a success notification.
Additional Information
From here, you can add Monitored Folders, edit the File extensions to monitor, and adjust the Processing type and Queue path accordingly.
For more information on configuring these areas, see the link below:
Additional Auto Import Settings
Monitor Subdirectories
Selecting this option will allow the system to monitor all subdirectories which fall under the monitored directories.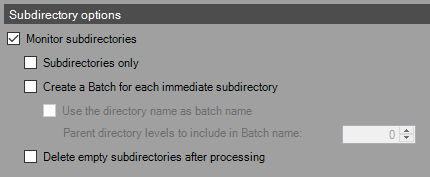 Subdirectories Only
PSIcapture will only import the content of subdirectories/child folder and ignore all other files in the monitored directory.
Create a Batch for Each Immediate Subdirectory
A new batch will be created for each subdirectory regardless of file or page count.
Use Directory Name as Batch Name
This option creates a batch named exactly as the folder name.
Parent Directory Levels to Include in Batch name
This option allows users to determine which parent directory names to add to the batch name based on hierarchy (levels).
Delete Empty Subdirectories After Processing
As described this option deletes any subdirectories after the Auto Import process has completed.
Keywords: PSIcapture Auto Import Monitored Directories, How to Setup Email Inbox for Auto Import, how to setup directory for auto import, configure monitored path for PSIcapture AI