Management
The Workflow Management section allows the administrator to query the database of items in workflow. The operation of the Query Screen is very similar to the Query screen in the Reports section. There are three other tabs associated with the management screen: Edit, Indexes and Trace.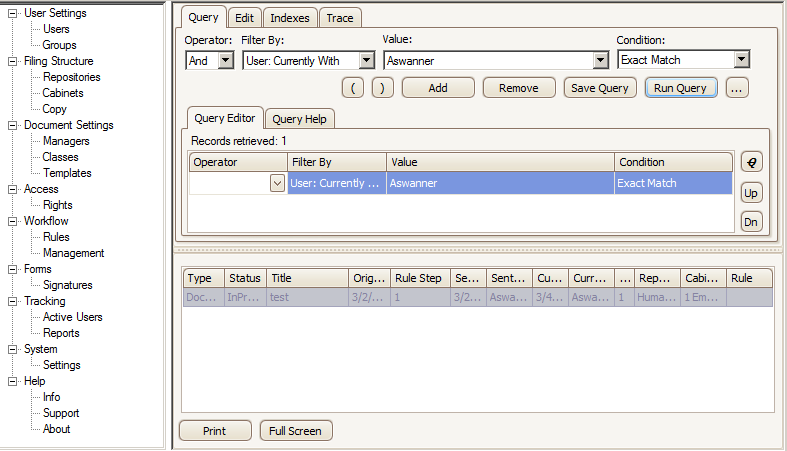 Edit
The edit tab allows a workflow administrator to manually remove a document from workflow and send it to a user/group/originator or cabinet. This should only be used as an exception process and should not be part of the normal process for workflow. If the destination type is a user or group, select the appropriate type from the list.
Enter any additional workflow remarks.
Click the Save button to reroute the workflow item.
Select all of the listed items or only those selected in the list.
Enter the destination type.
List of Filtered Items to Select:
Based on the Filter By – user may select a value – value depends on Filter By: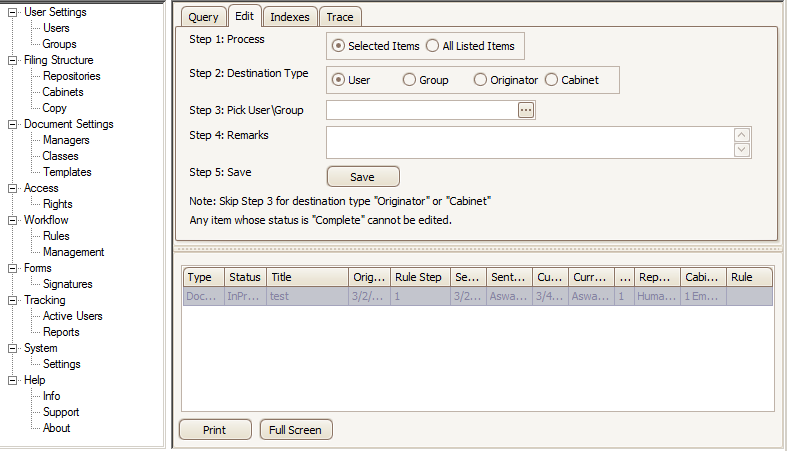 Trace
The trace feature allows the administrator to look at the workflow history of the item selected from the list selected by the Query tab.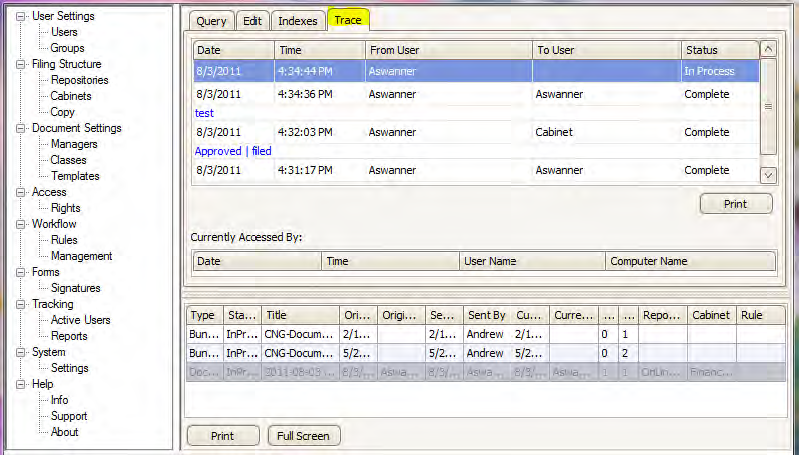 Recall Workflow Item
WorkFlow items can be recalled at any point within the WorkFlow by the originator, WorkFlow manager, or administrator.
Recall can be performed by the originator in Client
Recall can be performed by Originator, Manager and Administrator in Management
Recall requires a remark
Multi-select allowed
Distributed item not allowed for recall
Status 'Complete' items are not valid for recall
All Recall items are Audited.
Using Management to recall items
Go to Management>WorkFlow>management
Click Advanced Button
Pick User (Administrator has access to all users)
Select WorkFlow Item(s), Right Click and Click Recall.
User must enter reason for recall. Recall action is traced.
Indexes
The indexes screen displays the Folder Indexes for the item currently selected at the bottom of
the screen.
Controlling The Order Of Items In Dropdown Lists
Rule steps containing pull down items are listed in alphabetic order. This allows the order of items
in the list to be controlled by using numbers or alphabetic titles.