Overview
Sometimes a Route or Workflow is initiated in error or with the wrong content. In these scenarios, Workflow items can be recalled at any point within the Workflow process by the originator, Workflow manager, or System Administrator.
Major Recall Features include:
Recall can be performed by the Originator (Original Router/Sender) in PSIsafe Client
Recall can be performed by Originator, Manager and Administrator in PSIsafe Management
Recall requires a remark
Multi-select allowed (Control + Left Click)
Distributed item not allowed for recall
Content with the status 'Complete' cannot be recalled.
All Recall items are Audited
Using PSIsafe Client to Perform a Recall:

The Originator can recall a Workflow item using the Client.

In the PSIsafe Client Open the following:
Workflow > Tools > Show Items You Have Touched

Select Workflow Item(s) you wish to Recall from the left-hand pane, then, Right-Click and click "Recall":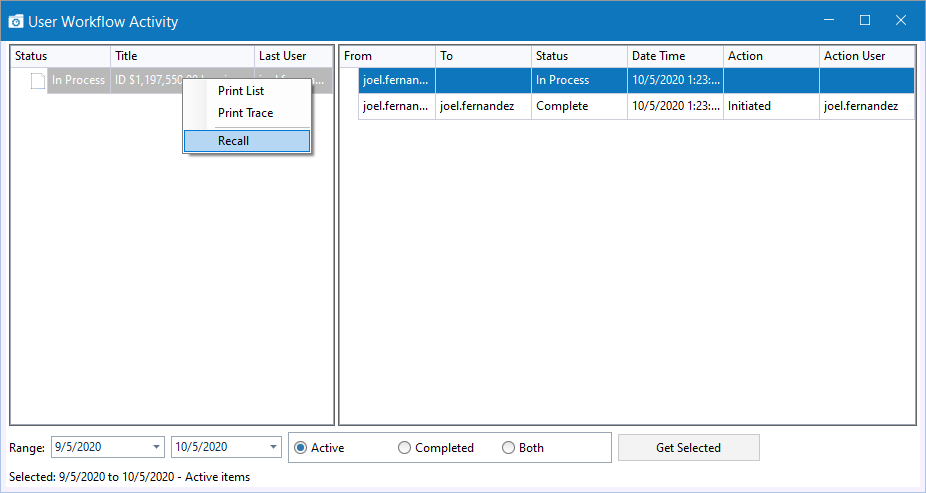 The user will be asked – 'do you wish to recall the selected Workflow item(s)?'

If yes is selected, the user is required to enter a Remark.

This completes the Recall Process. To perform a Recall in PSIsafe Management see:
Keywords: PSIsafe Workflow Recall, Recall PSIsafe Workflow, Workflow Recall PSIsafe