The following panes are available as part of the Migration workspace:
Batch to Migrate
Batch(es) currently loaded are listed here. When migration is complete on a batch, it will turn green.
If a migration fails the text will be highlighted in red. Failed migration for automated workflows will only display for a moment before the batch is suspended. Opening the Migration Module and running the batch manually will prevent the batch from automatically closing and allow the user to view the error. Hold the mouse over the red text to see a more detailed tooltip on the error.
Additional information is also available in the respective log files. These can be accessed from the Help ribbon menu under View Logs.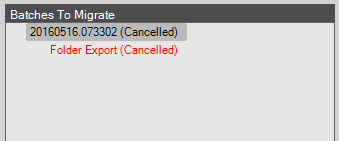 Migration Log
A timestamp of when each batch and document is loaded, processed, and completed is shown here.