| | | |
| --- | --- | --- |
| version 12.1.x | | Download Pending |
Note
This article includes accessing System Settings for On-Premises customers. PSIsafe Cloud customers can contact PSIGEN Support's Cloud IT Admin team for assistance with System Settings. By default most PSIsafe Cloud users will be given an address to use the PSIsafe OpenAPI for Mobile purposes at the time of purchase.
Audience
This article is intended for PSIsafe Administrators. Experienced IT Professionals at your organization are required to make network changes.
Overview
The PSIsafe Mobile App for iOS and Android is a great way to allow your organization to access your PSIsafe installation on-the-go. PSIsafe Mobile allows easy viewing and editing of content stored in your PSIsafe Installation via your Apple or Android device. PSIsafe Mobile uses the PSIGEN API to communicate with your PSIsafe Server. For more information, see the links below.
Prerequisites
PSIsafe Server 32-bit 11.2+
PSIsafe Server 64-bit 11.2+
PSIsafe OpenAPI 11.2+
Apple or Android Device
Installation
Ensure you have installed the prerequisites of PSIsafe Mobile. Below are the installation instructions for each prerequisite:
Once your PSIsafe Server is properly configured, you can move on to downloading and installing the PSIsafe Mobile App, which is handled via your device's App Store. For iOS, open the App Store and search "PSIsafe", or click on the link below. For Android, open the Google Play Store and search "PSIsafe", or click on the link below.
---
Download PSIsafe Mobile App
User Guide
Cloud Mobile Addresses:
Configuring Internal or External Accessibility
By default, most On-Premise installations will use the IPv4 address of the machine which is hosting the 64-bit Server & OpenAPI installations in the configuration of the SystemServiceModelClient.config file, which tells applications where, and from which port, to access your PSIsafe Installation. In this case, users can connect to your local network via a VPN and access your PSIsafe Installation through the Mobile App with this same IPv4 address.
This setup can be modified to instead point to custom domains or other network locations based on your unique business preferences. Please note that changes to the PSIsafe URI must be updated both in this file and in the PSIsafe Management System Settings under Options > Paths > PSIsafe URI. For more information, see: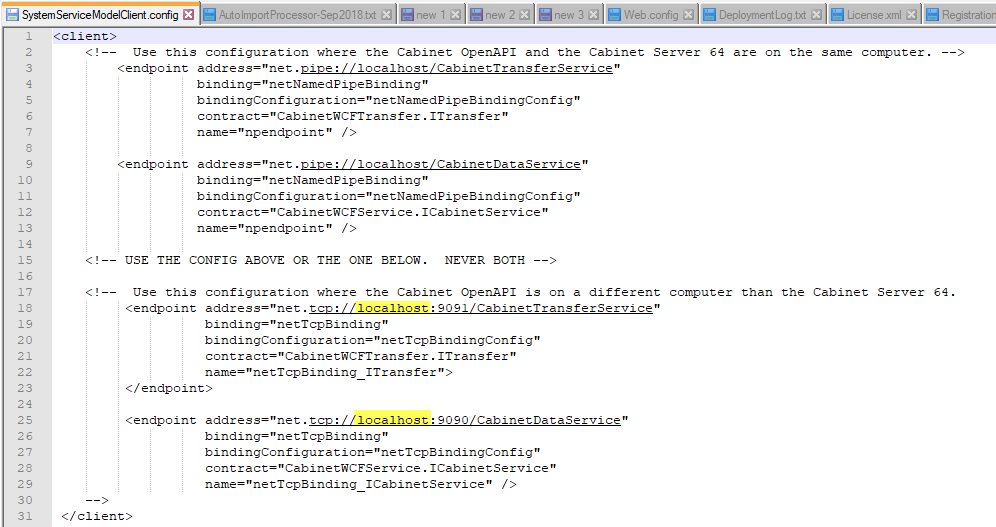 Note: Modify this file only if the PSIGEN OpenAPI is on a different server than PSIsafe Server 64-bit
File to be edited: SystemServiceModelClient.config
File Location: C:\Program Files\Cabinet\OpenApi\cabinet\config
Change: "localhost" to match the address or hostname of the Cabinet Server (64 Bit)
It's important to note the custom domains must have a valid certificate installed to be used as an external address, and port forwarding to the machine in question is necessary within the Router settings in many cases for external connections. Consult your internal IT professional for more information.