The PSIsafe Client Installation Guide is detailed below. For further references needed before proceeding with client installation, see the links below:
Overview
The PSIsafe Client Installation Guide is designed to walk you through the basics of the client installation to allow you to access an On-Premise or Cloud-based PSIsafe Installation that has a previously installed PSIsafe Server. For more information on PSIsafe Server installation, see the links below:


---

Pre-Requisites - Windows Features:
PSIsafe Server 32-bit v10.4+ Installed, Registered and Configured OR

PSIsafe Cloud Account Registered and Configured

.NET Framework 4.6.1+
---

Download Installers
Download installers from the PSIGEN Partner Portal
Contact PSIGEN Support for a PSIsafe Installation Package Link


---

Installation
Unblock Installers & Run as Administrator

Ensure you unblock all installers downloaded via Properties > Unblock. Then, right click and "Run as Administrator" when completing the following installation guide.

Install with Defaults or Upgrade with Defaults

Complete the installation process with the default options.

If you are upgrading an old version of the desktop client with the standalone installer, be sure to uninstall the old version via Programs and Features first.

If you are performing a client upgrade via the upgrade installer, be sure that your installation directory for your current installation is default, and if not, change it when prompted.
PSIsafe Setup - Advanced Installer


Above: PSIsafe Installer. Proceed through the installation steps with the default settings.

NOTE: If you installed the Black Ice Printer Driver previously, make sure it is removed via Devices & Printers before installing with the standalone installer.
---

Port Exceptions

A designated Network IT Administrator or other authorized individual should enter the following port exceptions into the Windows Firewall, as well as any third-party AV/Firewall/Security Software solutions.
PSIsafe uses the following ports
(Add Inbound and Outbound entries)
TCP/IP:
8993-8994 (Service Ports)
11000 (.NET Remoting)
1433 (SQL Service)
UDP:
1434 (SQL Browser Service)
---

Connect to Database
On-Premise Installations

The Connection Configuration window will appear when you first open the client. Select On-Premise and fill out the IPv4 address of your local server or IPv6 PC name. The Customer Code will remain "Default". Then hit "Save".
Cloud Installations

The Connection Configuration window will appear when you open the client for the first time. The Server Address will not be entered. The Customer Code will be set up at the end of the purchase process. Enter it here and "Save".
For advanced settings, contact PSIGEN Support for assistance with configuring connections to reserved, Beta, or specialized PSIsafe Cloud Installations, as well as recommendations for adjusting Ports and TCP/HTTP connection protocols.
NOTE: Adjusting these settings and the Client Path/URL without assistance from PSIGEN Support can lead to undesirable outcomes and non-functional installations.

Restart Client and Login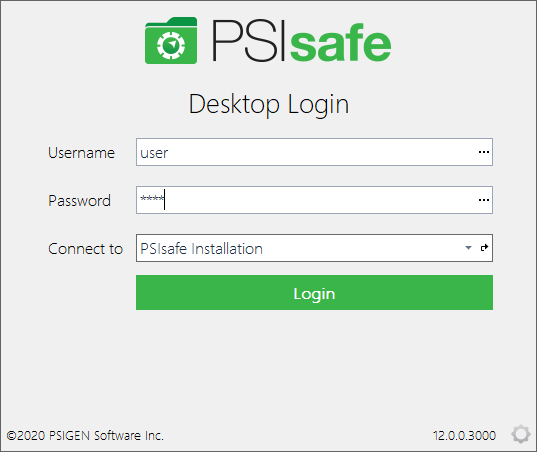 After successfully inputting your connection configuration information, exit the client and re-open it to refresh your connection attempt. You may also use the "Refresh" button on the right-hand side of the "Connect to" field.
Then, input the username and password provided by your PSIsafe Manager's initial configuration process.
If you need to create a new username and password, log into the PSIsafe Management console, navigate to "Users" and click "Add". You'll also need to assign rights to your new user in the "Rights" section. For more information, see the PSIsafe Management Administrator's Guide: Users.
---

Troubleshooting FAQ
For further troubleshooting, see the PSIsafe Client Troubleshooting section.
| Question | Answer |
| --- | --- |
| I am receiving an error message stating "Configuration System Failed to Initialize". | Close the desktop client and fully remove any old configuration data stored in C:\Users\[Username]\AppData\[Roaming/Local]\[CNG/Cabinet NG/Cabinet NG Inc/Cabinet] by deleting these directories. They will be recreated on the next launch of the desktop client. |
| I am unable to see my database listed when I have entered my connection information and clicked "Save". | Double check your connection configuration information with your internal IT provider or your PSIsafe Sales Representative. Once confirmed, double check that the ports previously mentioned have been unblocked, particularly the "1434 UDP SQL Browser Service" port, which allows the clients to browse for the SQL DB. |
| I am prompted for Administrator Credentials when opening the client. | Make sure you've installed the client as an administrator. If confirmed, ensure that UAC policies or AD security policies allow the user to launch programs that interact with system services, AppData directories, and registry entries. |
Keywords: Install Safe, How to Install PSIsafe, Install PSIsafe Client