Folder Search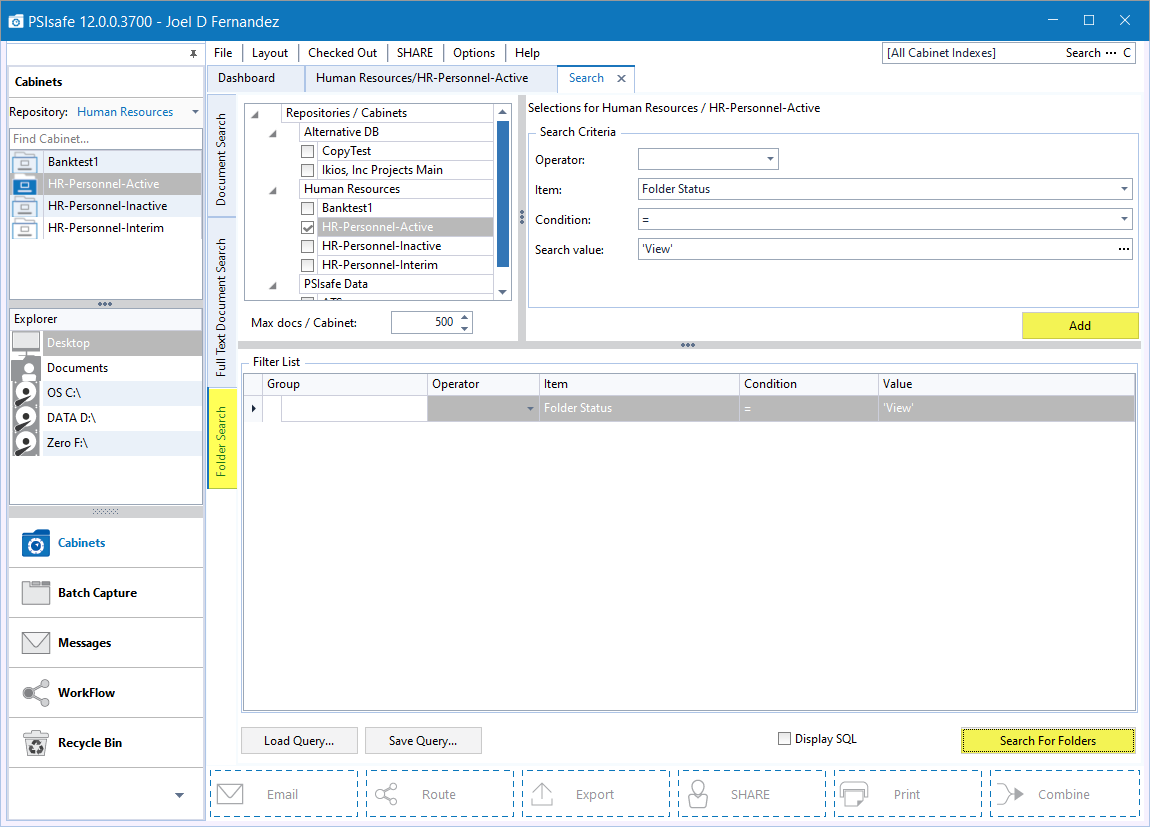 The Folder Search is designed to display search results based exclusively on Folders within PSIsafe, not the content within those folders. For more information on performing folder searches, expand the sections below:
Folder Criteria for Folder Search

Folder search criteria is nearly identical to the Folder Document Search criteria, and is based on two major categories: the index values associated with that Cabinet, and the folder's intrinsic metadata (when the folder was created/modified, folder status, etc.). Here is a full list of folder criteria with brief description if necessary:

[All Cabinet Indexes]
Folder Created By
Folder Created Date
Days back: Folder Created
Folder Modified By
Folder Modified Date
Days Back: Folder Modified
Content Date - Date related to content within the folder.
Days Back: Content - Days back related to content within the folder.
DBMS Key - Database Management System Key - The primary key stored in the DB table.
Folder Status - The folder's status in the Workflow module.
Missing Documents - This option is only available in the Folder Search tab, and displays a list of folders with no content within them that meet your other criteria.
Folder Security Class - The folder's security class as set upon creation (can be edited).
Folder Search Results Screen & Functions

The Folder Search Results screen lets the user perform a variety of functions (described as necessary):

Open Folder - Offers same functionality as standard Document List within PSIsafe.
View, Edit, Delete
Tools

Export - Export the selected file to an accessible storage location.

List - Export the search results as a list.
Contents


Single Directory - Export all folder contents as a single directory.
Cabinet Directory Structure - Export all folder contents with their cabinet structure.

Display Options - Adjust displayed sorting columns with the column picker.
Keywords: PSIsafe Search, PSIsafe Advanced Search, PSIsafe Folder Search, PSIsafe Document Search, PSIsafe Full Text Search