Overview
The PSIsafe Recycle Bin operates much like the Windows Recycle Bin. When a document or folder is deleted from PSIsafe, it is sent to the recycle bin. The document will remain in the recycle bin until it is permanently deleted. A screen similar to the one below will be displayed upon entering the recycle bin.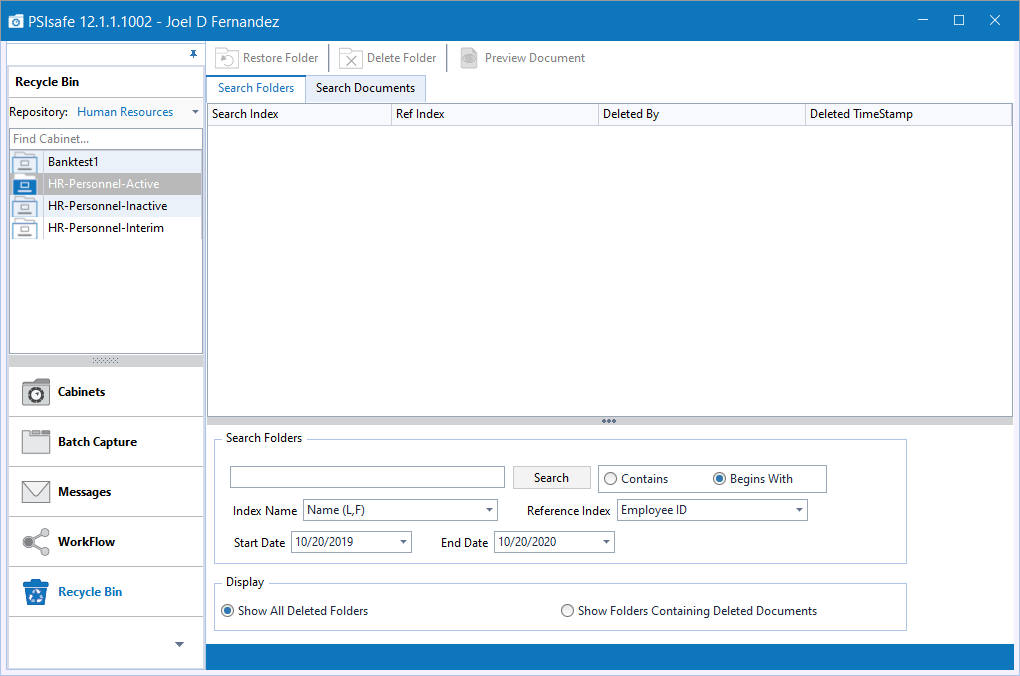 Each Repository/Cabinet pair has separate recycle bins. The first thing to do is select the correct Repository and Cabinet from the pull down lists on the left side of the screen. A list of documents or folders will be displayed in the list on the right side of the screen. To see Folders, use the Search Folders tab. To see Documents, use the Search Documents tab.
Searching, Restoring, or Permanently Deleting Folders

There are two options available for folders. A folder may be restored to the cabinet by clicking the Restore Folder button on the toolbar, or the folder may be permanently deleted by clicking on the Delete Folder button on the toolbar. The Delete function is final and the folder will not be retrievable after this action.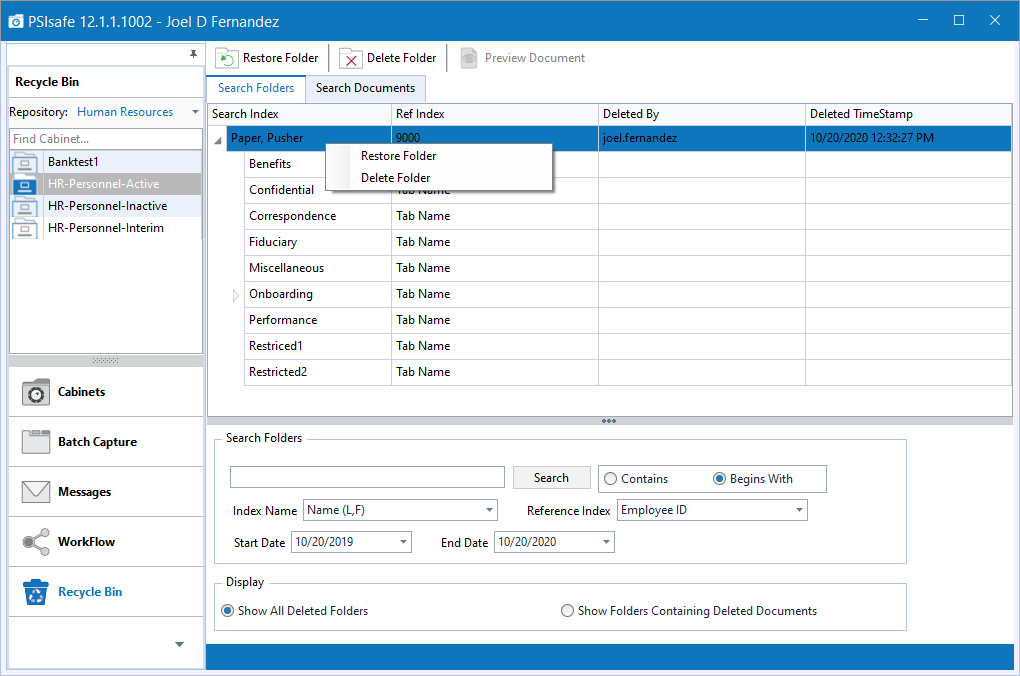 The Recycle Bin allows the user to search for a specific folder that has been deleted using the Search Folders function. Folders can be searched based on any Folder Index by selecting the desired index from the Index Name pull down. Specify a date range with the Start Date and End Date input fields, then click Search. Alternatively, the option to "Show All Deleted Folders" or "Show Folders Containing Deleted Documents" may be selected to narrow down empty folder versus folders with content.
Searching, Restoring, or Permanently Deleting Documents

To view documents in the Recycle Bin, select the "Search Documents" tab. When this tab is selected, a list of documents will be displayed. To search for specific documents, enter search criteria at the bottom of the screen and click the Search button. A document is selected by clicking on it within the list or by using the Control (Ctrl) or Shift keys on the keyboard as multiple documents are selected. Once documents are selected there are three options: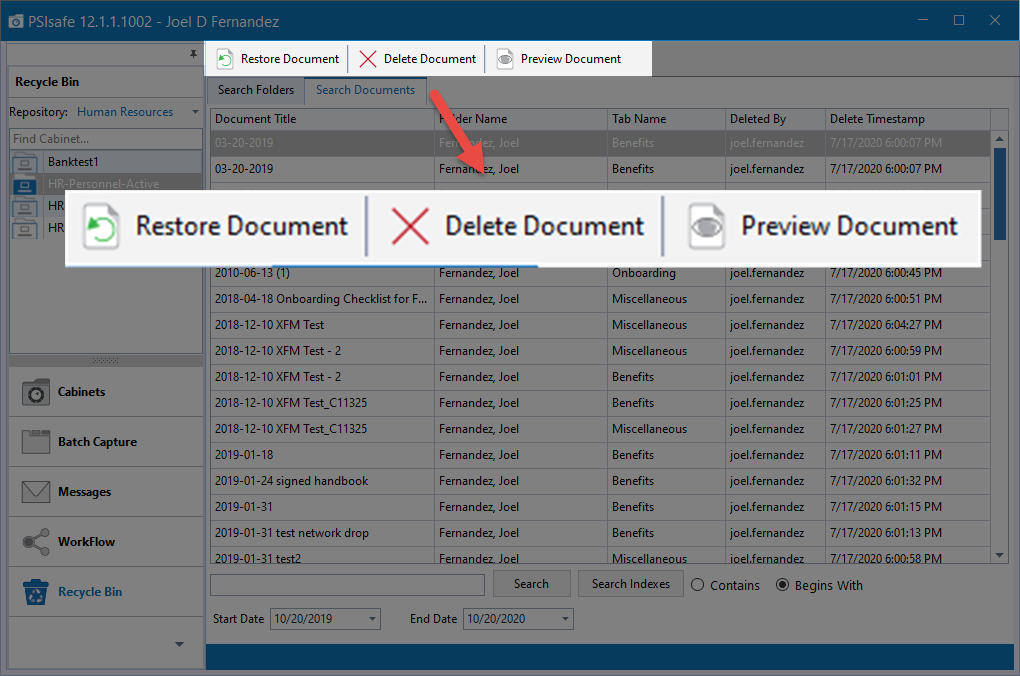 1. Restore removes the document from the Recycle Bin and places it back into the Cabinet and Folder from which it was deleted.
2. Delete will permanently remove the document from PSIsafe. When attempting to Permanently Delete an item from PSIsafe, the configured User, Cabinet Owner, Cabinet Administrator, or System Administrator must sign in to complete the process:

The applicable Administrator Settings are configured within PSIsafe Management > System > Settings > Options > General and will prompt the selected type of user: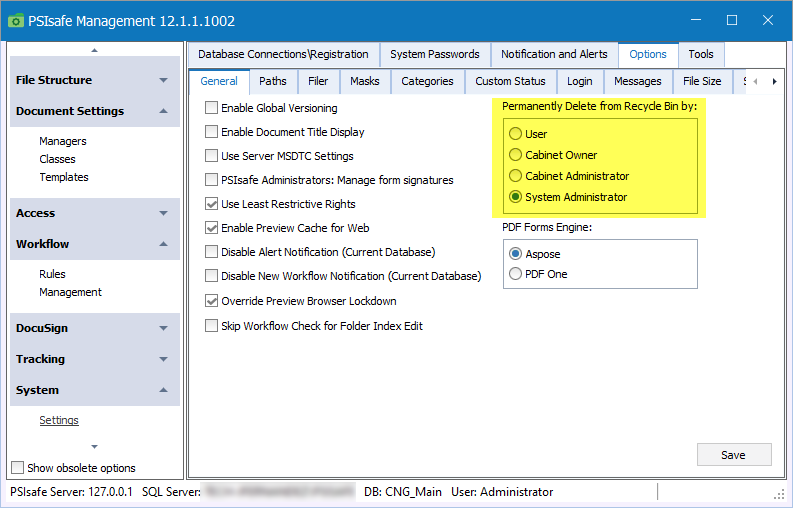 The PSIsafe Message shown below will be displayed as a Final delete warning.
NOTE: If you select "Yes" the document is PERMANENTLY GONE and cannot be recovered.

Keywords: PSIsafe Delete, Delete Documents PSIsafe, PSIsafe Recycle Bin, Recycle Bin PSIsafe, Delete Folders PSIsafe, PSIsafe Folders Recycle Bin