Note
This article includes configuration steps for both PSIsafe Cloud and On-Premises customers.
Audience
This article is intended for PSIsafe Administrators.
Prerequisites
Ensure you have an active DocuSign account. You will need administrative access to system settings to retrieve certain settings.
PSIsafe Desktop & Server 12.1.2.1002 and above.
PSIsafe 64-bit Server and PSIsafe OpenAPI version 12.1.1.1002 or above.
Installation Walkthrough
Click on a section below to expand the step.
Step 1: Initial Configuration (On-Premises Only)
The PSIsafe URI setting must be configured to match your PSIsafe OpenAPI installation. Specify the correct PSIsafe URI in PSIsafe Management under System / Settings / Options / Paths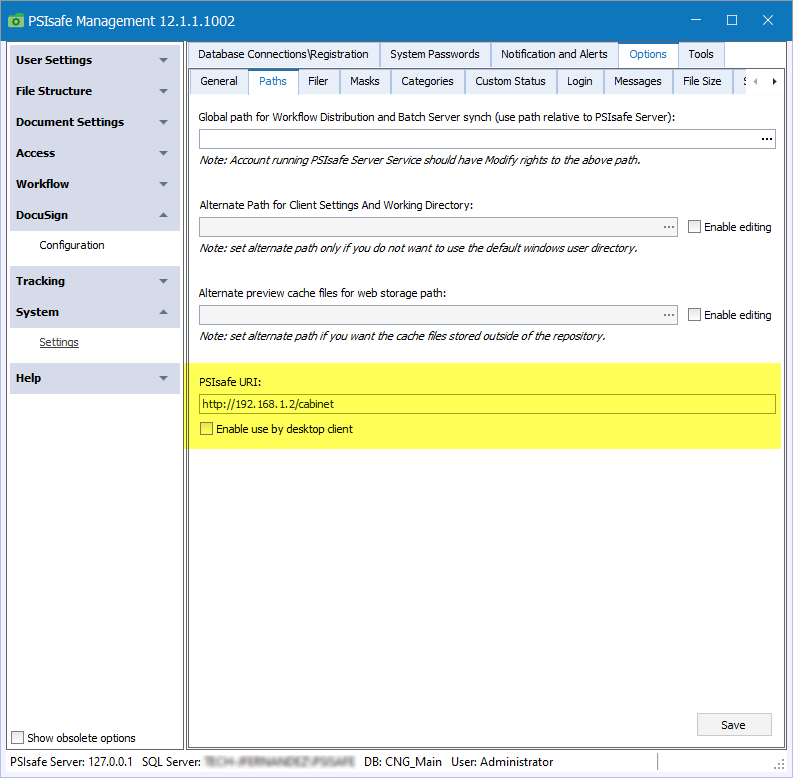 Step 2: Configuring DocuSign Administrator (Optional)
In PSIsafe Management, login as the global PSIsafe Administrator.
Navigate to User Settings / Users.
Select and Edit user to grant administrative access to DocuSign.
Navigate to Account Permissions and Settings: Step 2 of 4 for this user account.
To enable the Administrator Only tab, a user must first be a PSIsafe Administrator. Enable this checkbox to continue.
From the Administrators Only tab, select the DocuSign Configuration to enable the DocuSign section within PSIsafe Management for this user.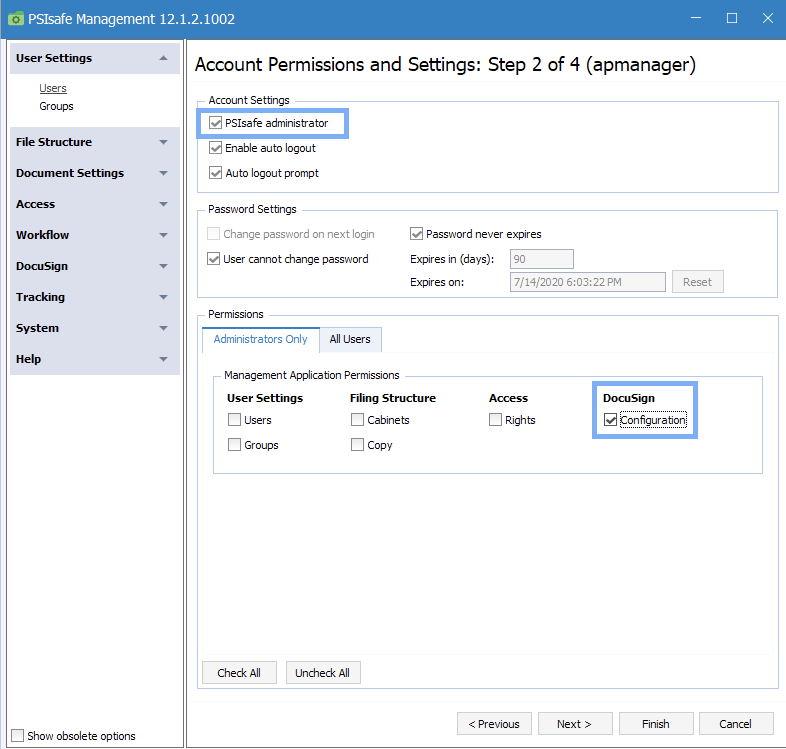 Step 3: Enabling DocuSign Integration
From PSIsafe Management, select DocuSign / Configuration to display the following screen. All fields are required. See your DocuSign administrator for this information.
Once configured, ensure you click the Grant Consent button.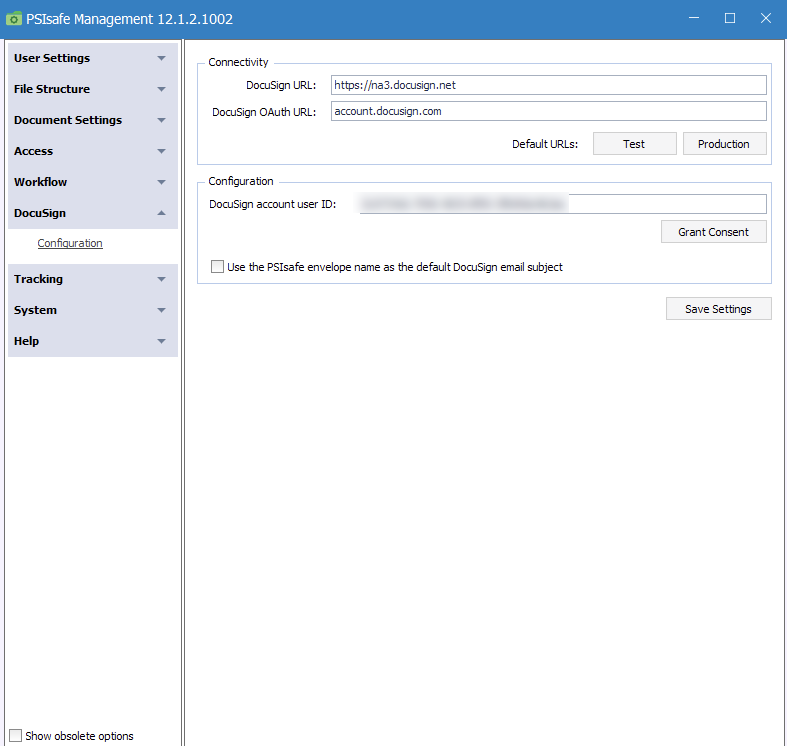 Here is a breakdown of each function displayed above:
| | |
| --- | --- |
| DocuSign URL | The DocuSign API URL for the environment you are working with (test or production). In DocuSign, select Settings / APP and Keys and copy the value in the Accounts' Base URI field (see below). |
| DocuSign OAuth URL | The DocuSign Oauth URL for the environment you are working with (test or production) (see below for location in DocuSign). |
| Test button | Populates each of the above URL fields with the default value for testing. Used during testing. |
| Production button | Populates the DocuSign Oauth URL field with the default value for production. |
| DocuSign account user ID | The API Account ID value for the account owner. In DocuSign, select Settings / APP and Keys and copy the value in the API Username field (see below for location in DocuSign). |
| Use the Envelope Name as the default email subject | As detailed in later sections, the user must enter a "friendly name" when creating an envelope. Check this option to set the envelope's email subject in DocuSign to this friendly name. Envelopes in the DocuSign application are listed by email subject, so this option allows a user to quickly locate their envelope. |
| Grant Consent button | Press this button to grant consent for PSIsafe to access your DocuSign account. |
| Save Settings | Saves the settings. |
In order to find this content in DocuSign's Web interface, Browse to Settings > Integrations > Apps and Keys, as displayed below: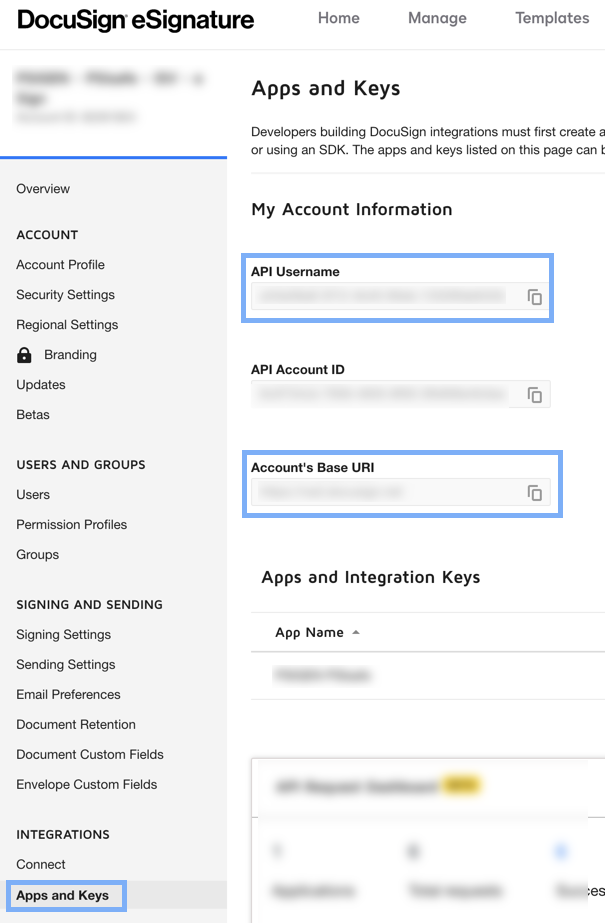 Step 4: Enabling a DocuSign User
To submit envelopes, a PSIsafe Administrator must first enable the PSIsafe user and associate the required DocuSign User GUID value.
Note: This step requires a DocuSign user account that has been preconfigured to have at least DocuSign Sender (DS Sender) permission profile rights.
4.1) First, ask your DocuSign administrator to provide the API Username value that corresponds to your PSIsafe user account.

This value may be found by navigating to Settings / Users and Groups / Users.
With all user accounts visible, select the appropriate DocuSign user account (or create one if necessary).
Within the User Profile screen, copy the API Username value. (see below for location within DocuSign).

4.2) Then, from PSIsafe Management check the DocuSign access

checkbox within the user's settings.

(User Settings / Users / Edit User / All Users tab)

.

4.3) Finally, enter the user's API username value from DocuSign in the DocuSign user GUID field (see step 4.1 for where to locate this value).



Edit the PSIsafe user in question to display details, then paste the API Username value: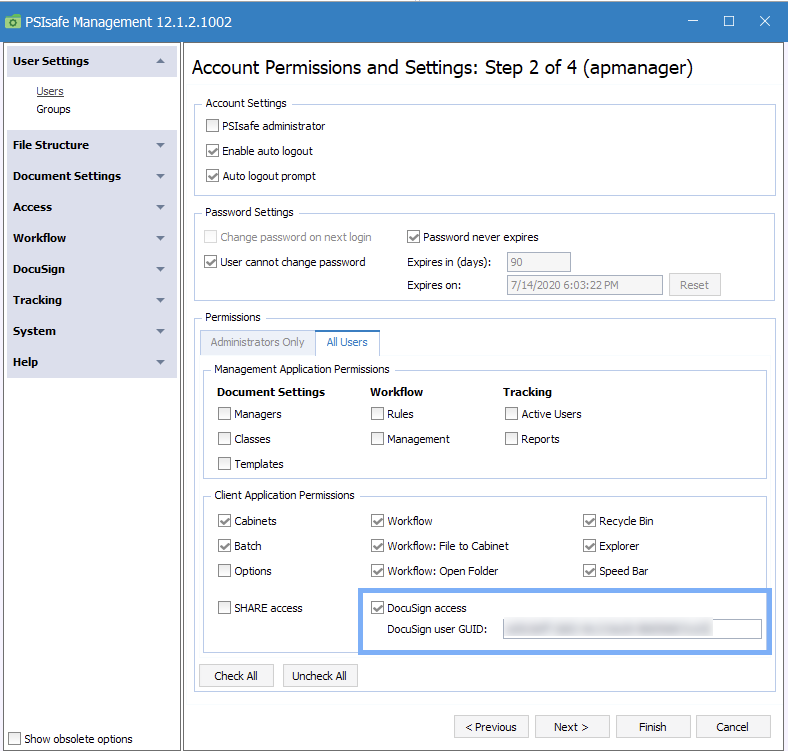 Step 5: Using DocuSign (as a PSIsafe User)
An DocuSign-enabled PSIsafe user will notice a few new features, to include the following (as seen in image):
DocuSign menu option from within PSIsafe Desktop client
DocuSign Speedbar option
Context (right-click) menu options for DocuSign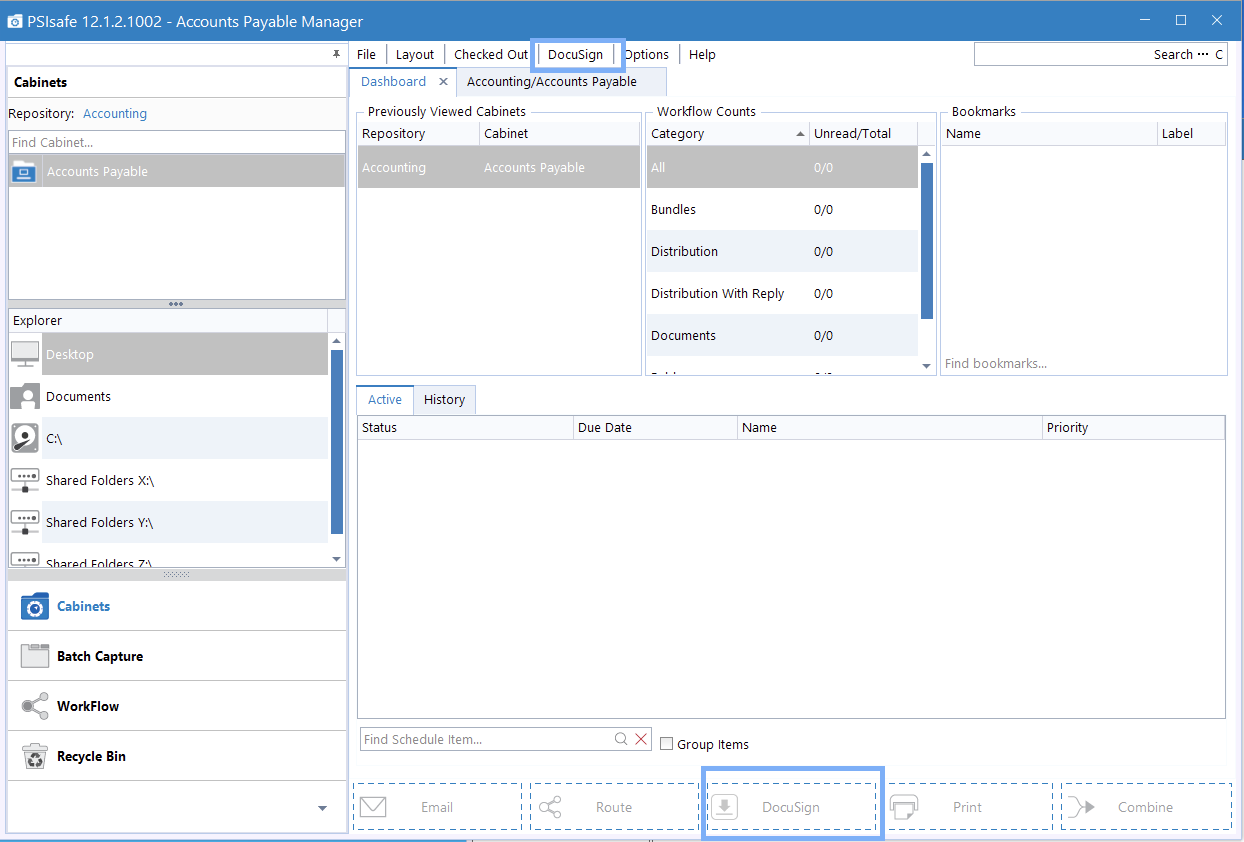 Step 5a: Granting Consent
Each PSIsafe user wishing to use DocuSign must perform a one-time "grant consent" process. This can be performed by selecting the Grant Consent option under the DocuSign menu or simply dragging a document to the DocuSign Speedbar option:
(Note that this dialog is also displayed if the user selects any of the other DocuSign operation within PSIsafe when consent has not yet been granted.)

Step 5b: The DocuSign User Consent Process: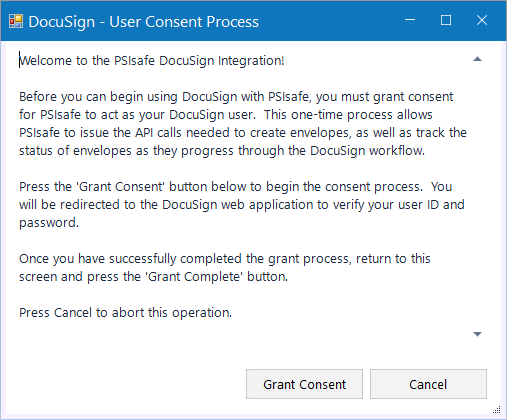 Step 5c: Press the Grant Consent button.
This redirects the user to the DocuSign web application login screen. Once the user has logged into DocuSign, the user is directed to a web page that allows them to grant consent"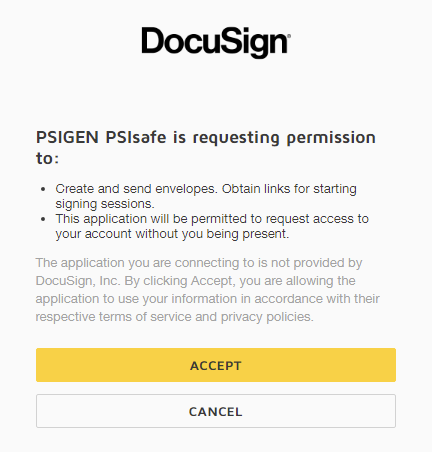 After clicking the Accept button, the web browser will be redirected to the consent completion web page assigned to the integration.
Note that if consent has already been granted in DocuSign, the user will not see the Accept / Cancel page. The user will be redirected to the consent completion web page assigned to the integration.
Close the web browser and press the Grant Complete button on the DocuSign User Consent Process dialog.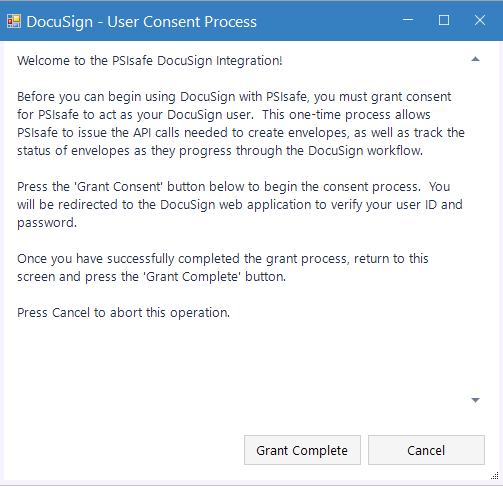 This completes the user configuration process.
Your user is now ready to use PSIsafe with DocuSign.
Important Note
Use of DocuSign is subject to normal account charges your organization would otherwise incur
For more information on using DocuSign after completing this configuration process, see: