Overview
The following is a breakdown of some frequently asked questions regarding PSIsafe's DocuSign integration, and how you can avoid issues during and after installation. Please refer to the following links for a detailed walkthrough:
Q&As
Q: Where do I license and sign up for DocuSign for my company?
A: DocuSign licenses are handled exclusively through DocuSign directly. This means you can visit the DocuSign eSigntature website directly to learn more and handle sign ups, invoicing, and more directly through their online portal:
Q: How do I setup DocuSign for my PSIsafe Installation?
A: DocuSign uses PSIsafe's OpenAPI to communicate with the 32-bit server via a duplicate 64-bit server. Both the OpenAPI & 64-bit server must be installed and configured before proceeding with the DocuSign configuration. For more information, see:
Q: I have a user with a DocuSign account, but it is not associated with our business account, can I merge them?
A: DocuSign Support can assist with merging two separate DocuSign accounts. You can contact DocuSign support here:
Q: When I attempt to access the DocuSign section of PSIsafe Management, the application becomes unresponsive for some time before presenting an error. What happened?
A: Most likely your PSIsafe URI is incorrect, and is not pointing to a valid PSIsafe OpenAPI & 64-bit Server location. The application attempted to connect during the delay, but was unsuccessful. Check out this support article for more information:
Q: I've sent an "Envelope" from PSIsafe to be signed, where did it go?
A: The "Envelope" is now in the "Drafts" section of your DocuSign Web interface. Simply log on to DocuSign Web and Click "Drafts", then, you can continue where you left off and complete the sending of the envelope to the appropriate signers: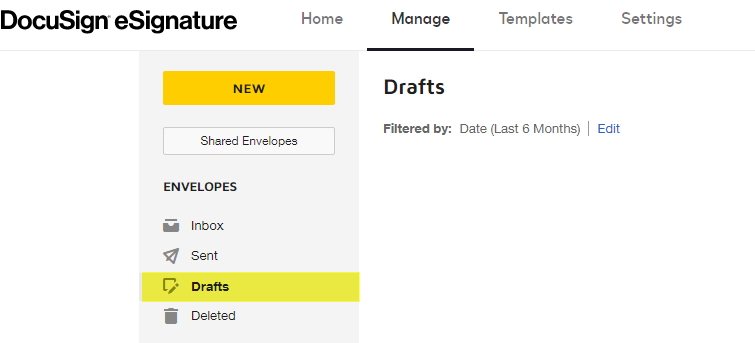 For more information on this process, see: