What is PSIsafe Share 2.0?
PSIsafe Share expands the reach of your business by making it simple to share documents securely between PSIsafe users and non-PSIsafe (Share) users, such as your customers or other business contacts.
PSIsafe Share is a cloud-based software-as-service that allows PSIsafe users to post documents in a Share user's Share folder via the PSIsafe Desktop application. These documents may be easily accessed via the web-based, PSIsafe Share portal which is provided to the Share user via email. These Share users are provided their own login credentials and may access and manage shared documents in any supported internet browser. Share users may also collaborate on documents with the originating PSIsafe user by uploading documents into the Share portal.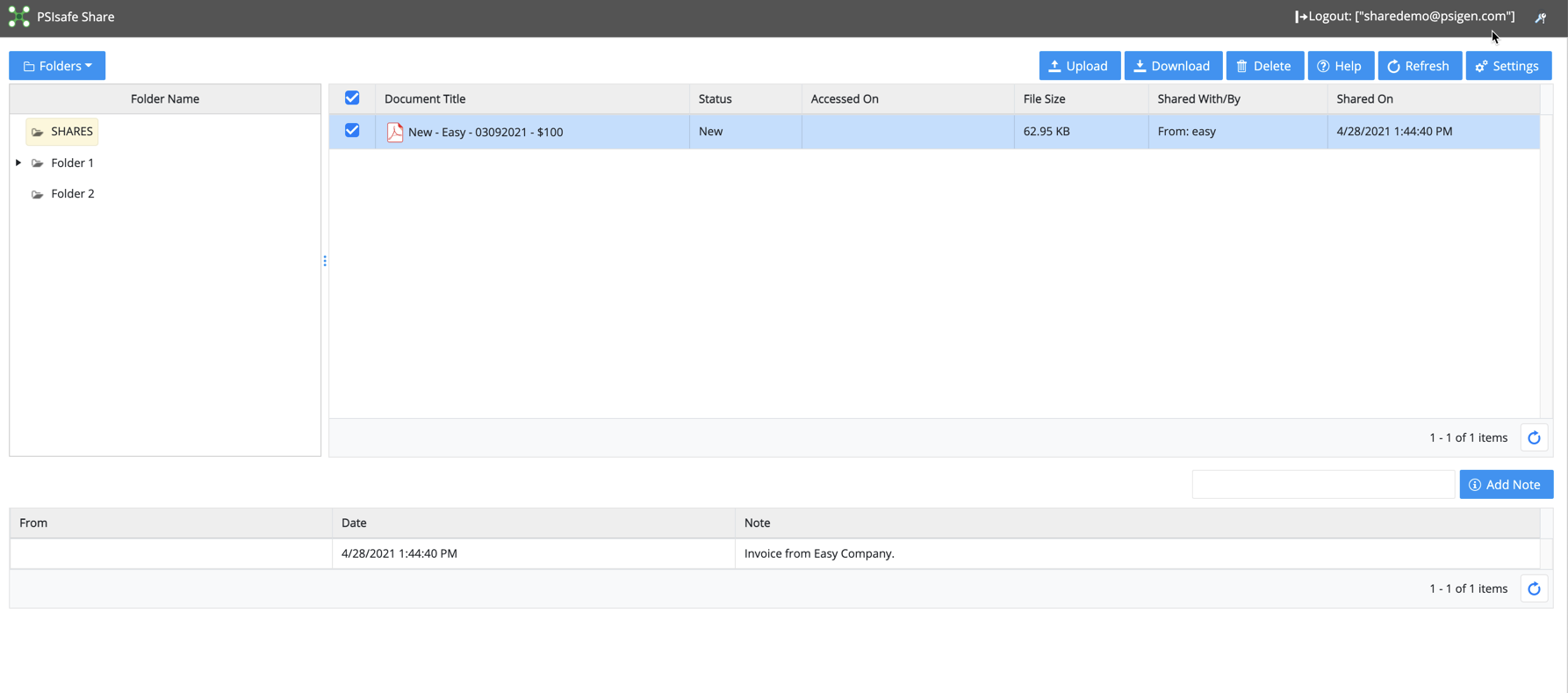 What's New in PSIsafe Share 2.0?
PSIsafe Share 2.0 has all the great features of PSIsafe Share 1.0 with an improved user experience for today's modern browsers. In addition to an improved user experience, we have also improved security and scalability by leveraging the state of the industry cloud platform, Microsoft Azure. This makes it easy for us to securely store your valuable content for safe and speedy delivery.
You can read more about what's new in PSIsafe Share 2.0 in our release notes.
When Will My Company Be Moved?
All customers using PSIsafe Share 2.0 will receive notifications starting August 2023. We will let you and/or your Partner know when Share 1.0 will be removed and when Share 2.0 will available.
We are targeting the new Share 2.0 to be available October 1, 2023.
More details will be available in the coming weeks.
What Happens to All of My Content?
During the move process, PSIsafe customers using PSIsafe Share will be concerned with the content shared via the PSIsafe Share portal and their PSIsafe Share Address Books.
PSIsafe Share Content (Files)

No content will be moved across during the transition.
Content you shared with outside parties via PSIsafe continues to exist in PSIsafe.
Please ensure content shared from outside parties are saved either in PSIsafe or elsewhere prior to your scheduled move date.

PSIsafe Share Address Book

Your Address Book will be saved.
However, you will need to re-share content with outside parties to create new PSIsafe Share 2.0 user accounts for outside parties.
What Versions of PSIsafe Are Compatible with PSIsafe Share 2.0?
Please consult the PSIsafe Interoperability Matrix for details.
Who Should I Contact If I Encounter Issues?
Please contact PSIGEN Support. We'll be happy to help you.
I Am Not Currently Using PSIsafe Share. Who Should I Contact?
Customers using any PSIsafe plan (Business Essentials, Professional, Corporate, or Enterprise) can access PSIsafe Share. If this isn't presently enabled, please contact PSIGEN Support to enable access to this PSIsafe module.